Flatliners Pest Control offers safe and effective fumigation service for your Las Vegas, Nevada property. There's no reason to suffer the itch of bed bugs, the odor of a rodent infestation, or the damage of termites to your property.
Some Pests Just Stick Around
You've set out bait and traps, sprayed, and cleaned, but you still have pests. Having to deal with an infestation can be incredibly expensive and stressful. Hiring an experienced fumigation company like Flatliners Pest Control can be the end of the struggle and the beginning of an infestation-free home. A few of the many pests we exterminate: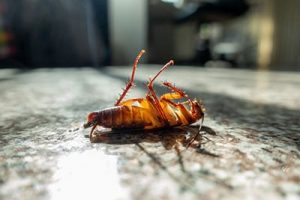 Mites, Ticks & Fleas
Bed Bugs
Moths
What Is Fumigation
Fumigation can be performed with chemical gases, liquids, or solids. These chemical fumigants kill pests at all stages of their development. They are applied throughout your home in order to gain access to the hiding places that conventional pest control methods just can't reach. Often in 3 days, you can return home and start enjoying your now pest-free space.
What To Do To Prepare
Your exterminator will give you detailed preparation instructions, but there are some basic things you can do to get ready for your service. These make sure the product can thoroughly do their job without any harm to people, pets, or plants.
Make sure all of your inside doors are open (including those to attics, basements, and crawl spaces).
Make lodging arrangements for 3 days. You cannot reenter the home after the service begins.
Make sure all food, medications, and other ingestible are bagged or sealed as directed.
Remove all pets and plants, including fish.
Fumigation Service In Las Vegas
Pest fumigation service from Flatliners Pest Control is your best bet for getting rid of insects, spiders, and rodents in Las Vegas. We offer professional services to help you evict unwelcome critters that cannot be controlled by other forms of extermination. Call us today to schedule your service. We want to know what's bugging you.